Peter's Solaris Zone
JProc
24 Feb 2013: version 1.0. Download | JProc on GitHub
JProc is a simple java jni interface to the Solaris /proc filesystem.
The aim is to allow java applications running on Solaris/OpenSolaris to obtain the sort of process data that you can get from tools like ps, ptree, prstat, and top.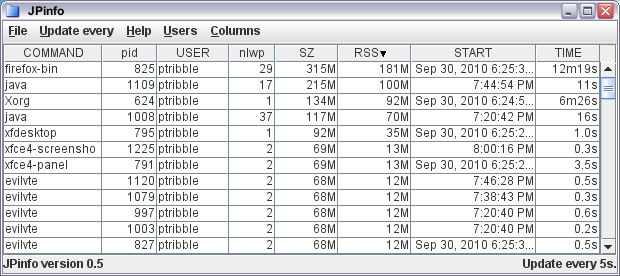 Above is a simple screenshot, a simple gui tabular process view. To use, download, unpack, cd into the jproc-0.X directory, and run ./jproc info.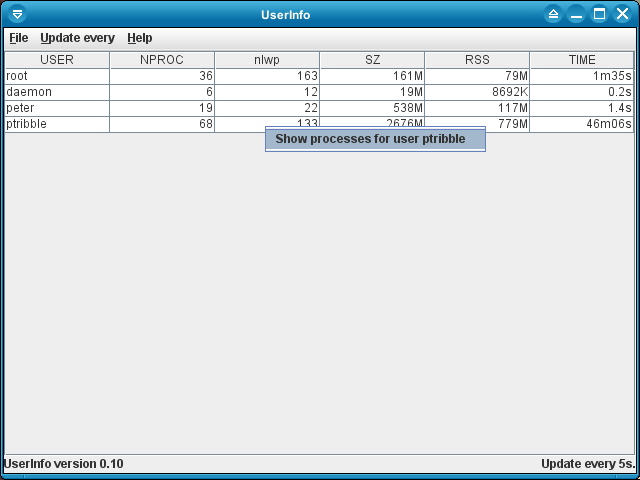 Above is a screenshot of the aggregate user view. You can drill down into a user's process list from the right-click menu. This is available via ./jproc userinfo.
Version History
Better TableModels.
RESTful client.
Aggregate user activity.
JSON input and output, client-server mode.
Filtering by task, project, contract, and small bug fixes.
Significant refactoring, bug fixes, and general improvements.
Implement prusage.
Selectable columns in info viewer. Fix nasty file descriptor leak.
64-bit native libraries, jptree, nicer output.
Classes properly public.
Username, group, and the like lookups. Zone and user filtering. API more complete.
Initial proof of concept.
---
Peter's Home | Zone Home